With Halloween & October now over, Liverpool lie 3rd in the Premier League, which puts them in good stead for the upcoming fixture list. How did the month fare for the Reds though?
Liverpool had an enthralling, but some would argue, challenging month – with the likes of Manchester United and Crystal Palace in the league & Tottenham (in the EFL Cup), but they went on to in fact go one better than last month – they were 4th at the end of September, but currently lie 3rd ahead of November's fixtures.
So I'm going to break down our fixtures game by game..
Swansea City 1-2 Liverpool, 1st October 2016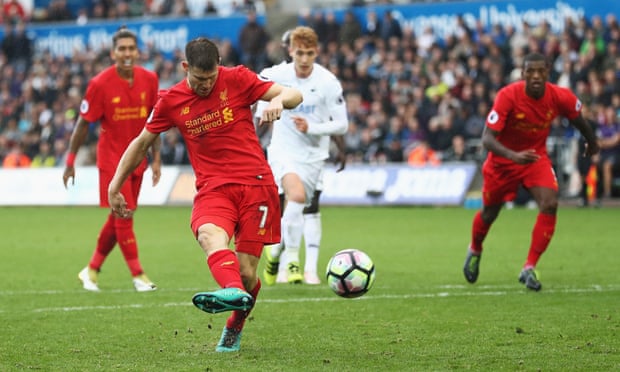 Many thought that this game could be a potential obstacle for Liverpool. With Swansea having given Manchester City a good run of their money before in their last few games, it was always going to be a dangerous fixture to go into, especially with Swans manager Franceso Guidolin under pressure after a poor start to the season.
It looked like one of these games for Liverpool when we went 1-0 down due to a routine Leroy Fer finish (again, the result of poor defending), but in the second half 'Pool came out stronger, creating chances & applying pressure on the home side. It did pay off when Firmino headed in, and then Milner converted from the penalty spot to ensure we kept our winning record intact.
Liverpool 0-0 Manchester United, 17th October 2016
Dubbed as one of the most significant games in the month/season not just for Liverpool, but for the whole Premier League. In fact, the extensive pre-match media coverage included news outlets such as Sky Sports billing the game as Red Monday – unfortunately we didn't get the same excitement on the pitch; Mourinho's Bus returned to Anfield to crush the Reds' when we least needed it; they came with an obvious gameplan, which was to put 6 men behind the ball at the back, and hit us on the counter-attack.
The positive being we kept our first clean sheet of the season (although it shouldn't have taken this long to do so), but in a game that we were hugely tipped favourites for, we missed our opportunity to capitalise against our bitter rivals, which would have the perfect tonic.
Liverpool 2-1 West Brom, 22nd October 2016
This was another fixture that required us to be able to penetrate a bus at the back – any mitigating doubts of our inability to do that were swatted aside in fine fashion, as we deservedly (and comfortably, to some extent) emerged victors over a tame West Brom side, who offered very little. Both goals were superbly created, but the only concern from LFC fans was the failure to keep a clean sheet. A good result which showed we can continue to win these games.
Liverpool 2-1 Tottenham, 25th October 2016
Progress in the league had been wholly convincing so far – but I wanted to see a cup run for Klopp's men; the EFL Cup took on added importance for us considering we did not have any European competition to stress about. If we had not progressed, the stock narrative of our fans would have been: "It's only the EFL Cup! We have the league!" – but there's no use hiding a few home truths.
Anyway, onto the game – Daniel Sturridge, who had been previously criticised for his lack of ambition/failure to manifest himself well in the LFC team for fans to regain confidence in him, silenced the critics in the best possible way – with a fine brace against a Spurs side who were unbeaten in the Premier League. He should have more arguably; a Vincent Janssen penalty reduced the deficit, but it took on no importance regardless, as the kids did the job & got the Merseysiders through to the next round.
Crystal Palace 2-4 Liverpool, 29th October 2016
I have to admit, this game did have all the banana peelings to be a slippery slope of a game for us.
We had only won once in the Premiership away at Selhurst Park, and on occassions that barren run looked to be coming to an end, and then at moments it looked like it was going to continue.
The game brought the best & worst out of us – we controlled most of the game (expect the beginning to the 2nd half) – delivering some superb attacking football at times. However, at times our defence, as it has always done, threatened to undermine our guile we showed in the game, with some vital errors which undid the hard work.
Something new we learned? Our CBs scoring at corners! Goalscoring source was not what we expected, but I'll take all the three points!
So overall, we lie 3rd in the league, and made progress domestically too. This, in everyone's eyes, is fantastic progress, and once again goes to serve our enhancing reputation as the ability to make an assault on the Premiership title, and go on and win it possibly, even, for the first time since 1990.
I have full belief in Klopp – the methods that he is employing is clearly serving the team well, we are regarded as arguably one of the, if not the BEST sides to watch now in the Premier League. If we can keep this form going into a very respectable fixture list ahead, I see very good omens coming forward.
Written by @SteLindellLFC