I was ridiculed all over Facebook when, just before the new season kicked off, I came up with a Premier League end of season prediction which put Liverpool F.C on top of the Premier League table.
I then went on to predict Manchester United second, followed by Tottenham, Chelsea, Manchester City, West Ham and Arsenal, with the most unfortunate ones, Middlesbrough, Sunderland and Hull at the bottom of the table, thus being relegated to Sky Bet Championship come May 2017.
Yes, I was ridiculed both in strictly Liverpool fans' Facebook groups as well as in large international football groups. In the Liverpool groups I was more than often enough told that I was being a bit delusional if I really could come up with a prediction like this, after no more than less than a year of Jürgen Klopp management, and – on top of that – no big signings coming in during the summer, at the same time as we hadn't signed a brilliant left back, a brilliant attacking midfielder, or a certain Mario Götze whom every Liverpool fan really wanted us to sign, believing Sadio Mané was a crap player and Georginio Wijnaldum being even worse. Plus the fact that the Welsh midfield star Joe Allen had been sold or released, alongside decent squad players like Jon Flanagan, Jordon Ibe, Kolo Touré, and Brad Smith. Me thinking Liverpool could actually go on and win the league with all this in mind, I had to be a little crazy if at all serious and not just kidding. I was even asked if I was a true Liverpool supporter or a con-man with quite another club affiliation, which made me laugh. I am not. How could anyone believe that? Well, my prediction. Too good to be true, and never to be anything other than a silly Mancs' joke.
Funny thing with these supporters: the fact that both Martin Skrtel and Christian Benteke were offloaded was seen as very good news, no problem, but the likes of Joël Matip, Sadio Mané and Gini Wijnaldum coming in was a big pre season disappointment, because none of these were considered big names or great talents. Mané wasn't Götze and Matip was one unknown centre back, that's all.
I am writing this one day before Liverpool defeats West Bromwich Albion at Anfield. That will happen on Saturday the 22 October 2016, of this I feel absolutely convinced. After that, one week later, we are also going to defeat Crystal Palace at Anfield? Does it sound horribly unlikely now? I really don't think so. How about you? Oh, you do? You certainly must be a real doubter, don't you? Just like you're supposed to be as an old Liverpool supporter. –
In a recent T.V. interview Roberto Firmino was asked a very simple question: "Are you confident you can win the Premier League this season?"
The Brazilian international Firmino replies: "Nothing is impossible. We're working hard to improve every day. Of course Liverpool are a big team, we have always been up there fighting for the league. We will win the title if we work hard and deserve it. If we don't, we don't." 
Earlier on in that same Soccer AM interview, Roberto Firmino also talked about the manager Jürgen Klopp, saying: "He's an excellent manager. He's the best I've ever worked with so far. Working for him is incredible. He has a good heart and he also have that German mentality. Having played in Germany, I've adapted to German football, too. The hard work that he does is for the team. We've made a good start and things are going well for us." Firmino adds: "He's a good guy who shows his footballing passion. He does his job with love and enjoyment, which we all like. Training is like a match for him. He's always 100% focused every day leading up to matchday. He's always like that. The atmosphere that he creates for the group is incredible."
How about other Liverpool experts and former players thoughts by now? In a recent interview with Liverpool Echo, Sky Sports pundit Jamie Carragher said:
In terms of winning a league or the cup, you look at the Leicester situation, sometimes it's not just about what you do but what the other teams do. You could have a season, it could be this season, are we the best squad? Probably not but we've made a great start. In terms of Klopp over these next couple of seasons, he's been to two cup finals and you hope a manager like that can bring us some trophies, it's not easy, we've had a barren spell.
As a T.V. pundit Jamie Carragher certainly needs to remain focused on the fact that things could go a little wrong for us at times, and also go very well and better than expected by other title contenders like Manchester City, Manchester United, Chelsea, Tottenham, and Arsenal. As things stand things are not looking all that good for Manchester United. They have already lost some points they maybe would have wanted to win. The same goes for clubs like Manchester City, Chelsea, Tottenham and Arsenal. As well as for Liverpool, having lost that away game against Burnley very early on. I know it could happen again, but I do believe that Turf Moor loss was important. That game taught all the Liverpool players a darned good lesson in life. One that would go along the lines of "never, ever sit back and think any Premier League game against a poor opposition team can be won without making real effort and also losing concentration two times too much!"
As for the 0-0 draw against Manchester United, Jürgen Klopp wasn't at all happy with the result. He could say only one very good thing about that game: "Clean sheet, that's good! On the other side we can do much better, and that is what we have to really expect from ourselves."
Now, with the West Brom fixture coming up two days from now, Saturday 22 October, Liverpool manager Jürgen Klopp makes one thing perfectly clear: "We are full of respect. West Brom is a very, very experieced team with a very experienced manager, and they don't come here and want to make it easy for us or want to make it easy to enjoy for our crowd or something like this, they want to have a result and I respect this."
Now, that's the attitude! That's what a title winning Premier League manager is supposed to stress in a public press statement before a match against a smaller Premier League club. This in fact reminds me of Joe Fagan's 1981 anger with a squad of players that had just lost to a small time Manchester City in December after failing to win a few games before that one horrendous defeat, at which point manager Bob Paisley's assistant said he was done with hearing silly excuses. He wanted real team effort, and demanded the senior players had to take their job seriously.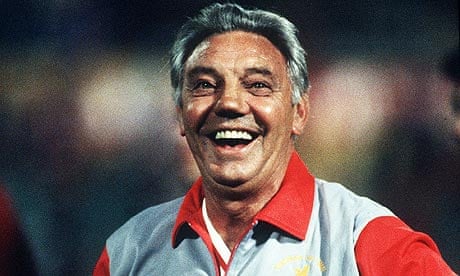 We went on to win the title that season, after a few bad results that simply had to stop occurring. Just like now, with that Turf Moor loss and also – interestingly – the irritating 0-0 home draw against big local rival Manchester United last Monday fresh in Klopp's mind. He wants the players to understand that he can not win the league if the players do not do just like Roberto Firmino said in the Soccer AM interview. "We will win the title if we work hard and deserve it. If we don't, we don't."
And Klopp certainly wants each and every Liverpool player to work hard and deserve what they can get. What he wants. And what does he want? The Premier League trophy! Nothing more, and nothing less.
This is why I still believe Liverpool F.C. is perhaps the biggiest of all favourites to win the Premier League trophy this season. Not next season or two seasons from now. This season, this season. I am not happy with a top 4 finish, and neither is Jürgen Klopp, that seems to be very clear here. And I do believe we are real title contenders. Even more, I believe we are the main rival of all other Premier League title contenders. Because we are the toughest opponent any Premier League team can come across as of now. Simple matter.
Written by @magneleokarlsen