With our first meeting of the season with the club that laughably insists on referring to itself as the "biggest in the world" imminent, I ask some of my match going red mates, Shankly Way writers and, for a bit of balance, a couple of United fans, what their favourite and least favourite LFC v MUFC games are.
I'll start with my own..
Favourite: Liverpool 2 Man Utd 0, October 2009;
This was a rare bright spot in a difficult season. Memories of the previous season's 86 point haul were a fading memory; we'd lost 4 games in a row and a week earlier, had been beaten at Sunderland in the infamous "beachball" game.
We came out fighting and there was a defiance from both team and crowd not often seen that season. Midway through the second half, Fernando Torres had Rio Ferdinand on toast before smashing the ball past Van Der Sar. Anfield was a cauldron, and the heat was turned up a few more degrees when Michael Owen came on as a sub. I don't recall a visiting player getting a more hostile reception at Anfield than Owen that afternoon.
United literally threw the kitchen sink at us late on but with both teams down to ten men after Vidic and Mascherano were sent off, David Ngog raced away. It seem to take an eternity for his shot to creep into the net but it didn't matter. The tension was over and Anfield erupted! Reina raced the length of the pitch to celebrate with his team mates. United and Ferguson had been sent packing!
Worst: Man Utd 2 Liverpool 1, FA Cup, Jan 1999;
This was my first away game. The Reds led from the second minute to the 89th. Ince limped off, United equalised following the award of the softest free kick you'll ever see, before former Liverpool fan Ole Gunnar Solksjaer won it in stoppage time. This was the most devastating way to lose a football match. Not only that, I believe this gave them the belief to go on and do what they did in the European Cup later that year. A truly horrible day in a horrible season.
A close second is the 0-1 in 06-07 which a couple of other contributors expand on below.
Next three lifelong matching Reds share their best and worst memories against the Mancs.
Ste (Main Stand season ticket holder):
Best: 3-3 Ruddock's header all day, standing on the Kop.
Andy (Main Stand season ticket holder):
Best: Beating them 2-0 in the last home game of the season in 1992 to help Leeds beat them to the league title.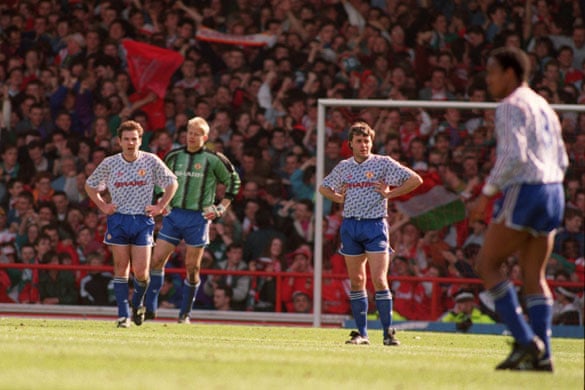 Worst: getting beat 4-0 at Castle Greyskull when Hyypia was sent off right at the beginning (02-03)
Gary (former Paddock STH)
Favourite 3:
1. 3-3 93/94 – not just the atmosphere but that was a seriously good United side so to come back was some achievement.
2. 1-0 00/01 – first win there in ten years and felt huge for that team.
3. 4-1 08/09 – not just to win that game to come back from a losing position was massive. We humiliated them that day and my only regret is that it wasn't by two or three more as it should've been.
Worst 3:
1. 1996 FA Cup Final. United were as much to blame for the shambles of that final. They were shit scared of us as we had battered them twice (even though the game at Old Trafford was a draw) – went 3-5-2 and Keane didn't leave McManaman's side. Can only remember Redknapp's chance just before HT for us.
2. FA Cup 98/99 – all the insecurities of the team came to the fore in the last 10 minutes. No more than Ince going off.
3. 1-0 O'Shea last minute (06/07) – they played like a bottom half team that day. They were not interested in playing, we battered them and should have won comfortably. Van Der Sar was freakish that day and one save from Crouch was world class. Goal came from a free kick the ref wasn't going to give until Giggs asked for it. Still annoys me.
Next, my 2 Manchester United supporting cousins Chris and Paul (from Manchester, too!) give their thoughts. If you're thinking of skipping this bit, just pretend it's been written by 2 Liverpool fans and swap the "best" and "worst" around!
Paul (Stretford end season ticket holder)
Best: 2006 when Rio Ferdinand scored in the last minute and Gary Neville ran the length of the pitch to celebrate in front of your fans.
Worst: Our worst game is between 2. 2009 when you beat us 4-1 after Vidic was sent off and the other was 2014 when Stevie G kissed the camera and you beat us 3-0 during the David Moyes short reign.
Chris (life long MUFC fan)
Chris: Yeah worst I'd agree with Paul in recent times. The Europa League last year was shocking as well given the fact you've won more European trophies.
Best: Best game I can remember was Gerrard getting sent off a minute after being subbed on being his last game against us.
Finally, a couple of fellow Shankly Way writers share their best and worst moments against that lot from down the M62…
@stelindelllfc – @TheShanklyWay18 writer:
Best memory: 4-0 against the Mancs at Anfield back in 1990 when Beardsley scored a hat trick and 4-1 in 2009. Wins at Old Trafford come and go, so it's brilliant when we hammer them on their own turf!
Worst memory:  When we lost them 1-0 at Anfield in March 2007, and the FA Cup Final 1996 defeat. The only good thing that came out of the 1996 defeat was the LFC fan assaulting Sir Alex Ferguson.
The 2007 one stuck in my throat. It wasn't a foul, United gave away a ridiculous amount of fouls, Neville gave away stupid fouls, Scholes acting like the Manc he is. They got lucky as well. I remember Bellamy scored a goal too that was wrongly ruled offside. This all but sealed United's grip on the Premiership title ahead of Chelsea that season.

@lebigmc5times – @TheShanklyWay18 writer
One of the best memories I have is the season they lost out to Leeds. We beat them at anfield 2.0 to put the final nail in their title hopes coffin. Whole ground singing 'always look on the bright side of life'……
Lee hasn't done a "worst moment" so I'll sign off by saying let's hope Monday's clash doesn't stand a chance of ever making it into that category!
COME ON YOU MIGHTY REDS!!
Written by @Pilnick_Jimmy